Simple toy for kids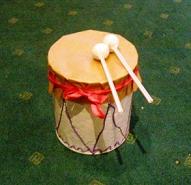 Drum. 2 to 5 years.
You can make a drum for young children as a toy or make it as crafts, along with an older child.
Base – an empty metal can of the coffee, green peas, or the like Just make sure that the edge was not sharp and the bank is safe in case the baby would break the toy.
obkleyte Bank paper. We used sticky paper at once. Paint the reel of your choice. We used three-dimensional paint, which dries leaving the bulk band. You can stick the strips as the application.
Dense packing paper put on top of the bank and drag for example, office eraser over Tie a ribbon.
sticks we made ​​out of two straws from juice and clay balls.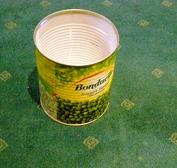 source: img1.liveinternet.ru