Felt crafts: Make A Pretty Poinsettia Pillow (any time of the year!)
Red version, up close: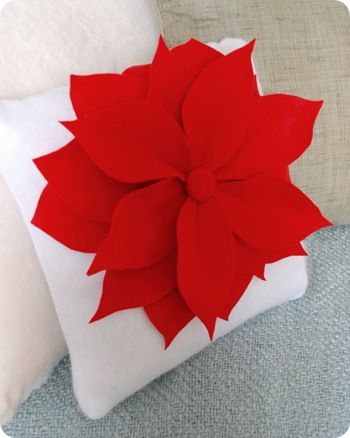 If you want to create your own version of these simple sew poinsettia pillows, here's the step-by-step.
Simple Sew Poinsettia Pillows
Supplies for a 14 to 18" pillow:  pillow insert, 2/3 yard of felt for the pillow form; 1/2 yard of felt for the petals and button; button cover kit or color coordinated button, zipper and thread to match.
Step One: Cut a single petal out of felt, then use it as your template to create 12 large petals.  Repeat to create 8 to 12 medium petals.
Step Two:  On one side of your pillow form, start by centering two petals, and sewing them to your pillow front two at a time.  Sew only halfway up each petal to allow the edges to pop off the pillow form.
Step Three:  Work your way around in sets of two petals, slowly layering the flower pattern with the addition of each set of petals.  Start with the large petals, then add the medium petals on top.  Again, only sew halfway to allow the petals to curl up off the pillow.
The nicest part about sewing your petals only halfway is it forms a crease in the petal which helps it curl, and then pop right off the pillow form to make a bold statement, even from across the room.
Step Four:  Use your button kit to create a felt covered button for the center of your flower.  Attach your button with a needle and thread.
Step Five:  Turn your poinsettia inside out, and sew all three sides together to fit your pillow form, whether it's 18" or 14" or anything in between.  Sew just the corners of the fourth side to prep for installing your zipper.
Step Six:  Attach zipper foot to machine.  With your pillow form inside out, turn your zipper upside down, and sew each side to the pillow.
That's it, easy peasy !  The greatest part about using a zipper is you can take the pillow cover right off and use the pillow insert the rest of the year.
Another alternative, rather than sewing your poinsettia onto a pillow cover, is to simply create the flower as described in steps 1-4, and attach to an ordinary pillow with a piece of velcro.
For the holidays, these look like little presents embellished with a bold botanical.
For the green version, I used cozy corduroy.
This version sits in my family room, and adds a fresh seasonal touch to the existing green tones in the space.
A Dash of Panache: Poinsettia Pillows
source: www.billiemonster.com