Christmas jewelry: beaded earrings
Let It Snow Crystal Snowman with Siam Swarovski Rondelle and Top Hat earrings .
From KCMisMe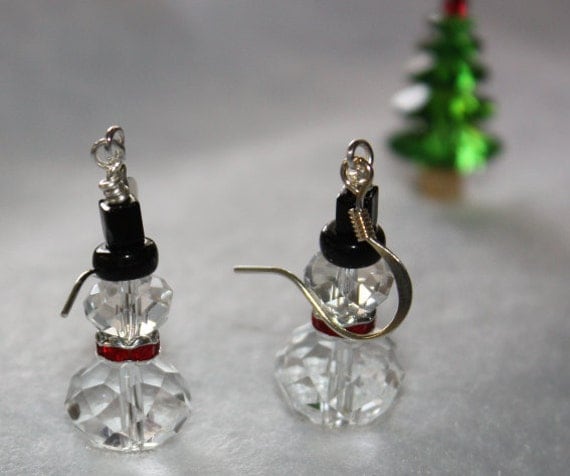 What is winter without holiday jewelry and these little snowman earrings will put you in the holiday mood instantly. These little guys are one inch tall and almost two inches tall with the ear wire.
Holiday Jewelry Tree Earrings Topaz Silver Iridescent Christmas Tree Swarovski Crystal Holiday Jewelry
From AbacusBeadCreations
Holiday Jewelry Tree Earrings Topaz Silver Iridescent Christmas Tree Swarovski Crystal Holiday Jewelry
Iridescent Christmas tree earrings made with Swarovski crystal. Modern holiday colors of silver and rainbow finish tree with a crystal topaz top gives these earrings an modern feel.
The ear wires are sterling silver.
Christmas Tree Earrings: Swarovski Crystal & Sterling Silver, holiday red green gift for her under 30 25 stocking
From cooljewelrydesign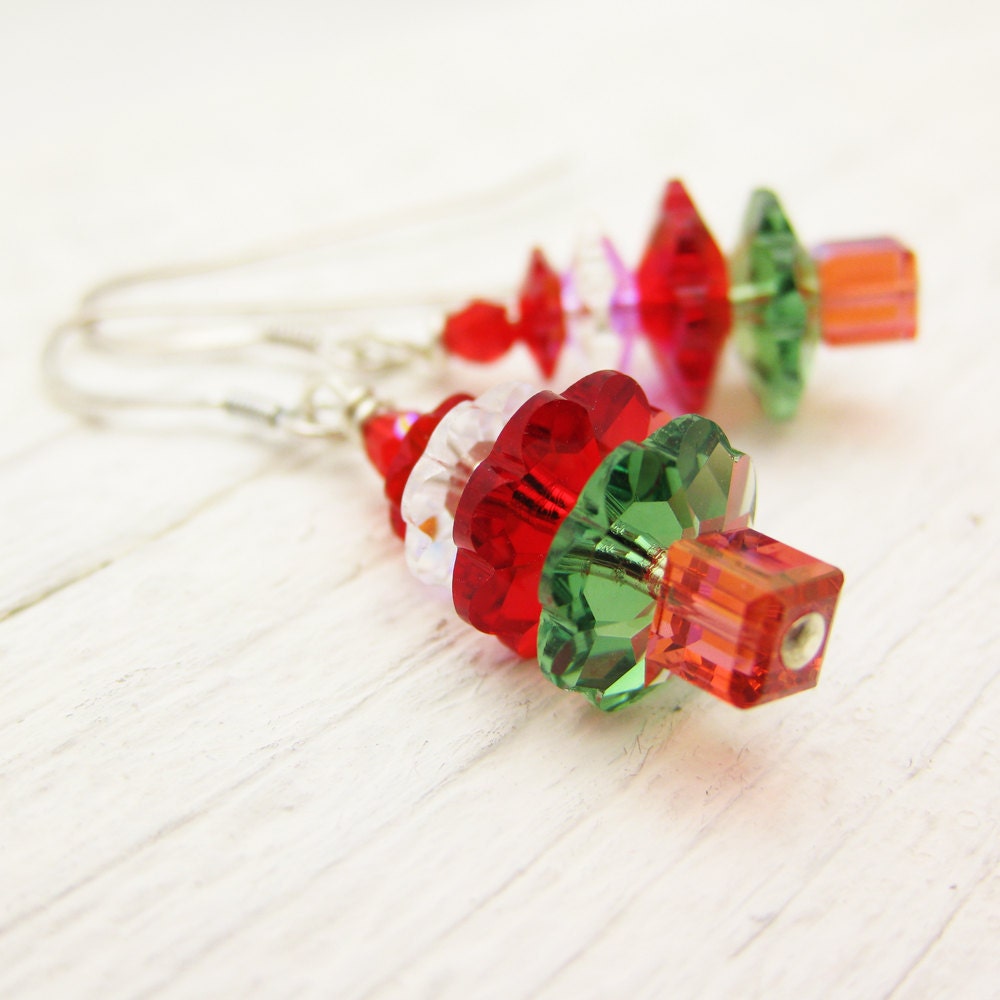 Handmade jewelry presented to you by cooljewelrydesign…Holiday Crystal and Sterling Silver Earrings. These Christmas tree earrings are totally Swarovski crystal. These feature predominantly red crystal with a bit of spruce green and clear. The tree trunk is amber crystal.
Holiday Christmas Tree Earrings with Swarovski Crystals and Sterling Silver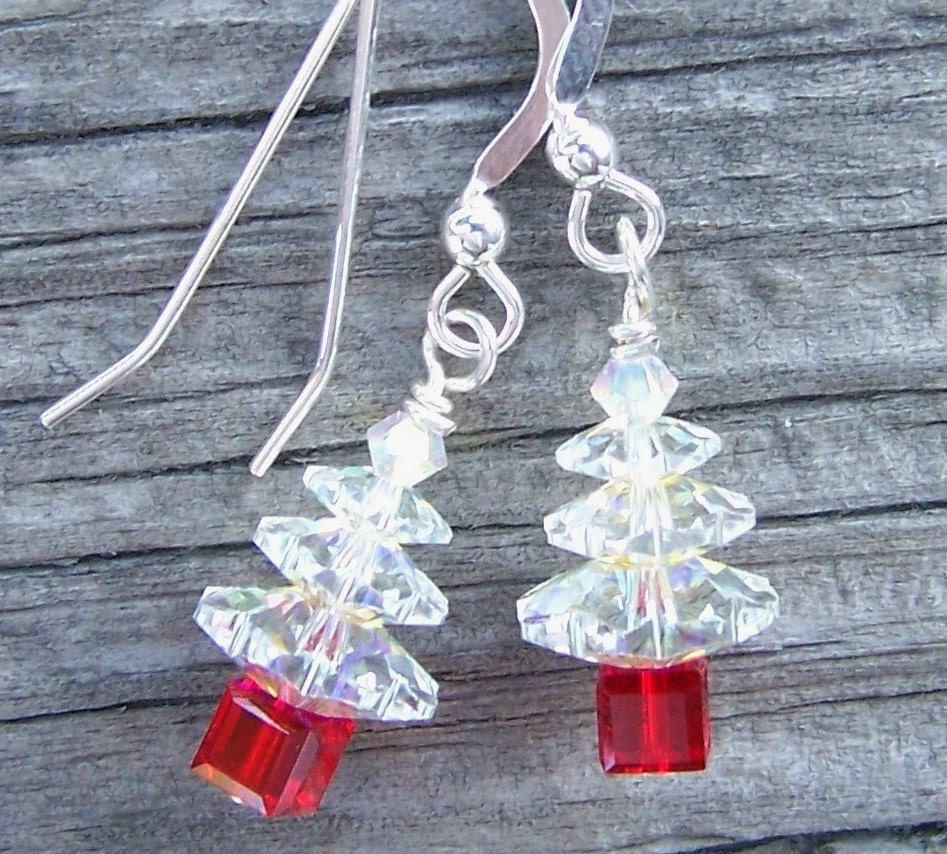 Handcrafted earrings Made with genuine Swarovski Crystals. Beautiful Sparkly Clear with Aurora Borealis and a bright red base They measure about 1 1/2″ from top of earwire to bottom crystal. Sterling silver ear wires
Very cute and great for stocking stuffers.
Not the Christmas Idiot Swarovski Holiday Tree earrings
From KCMisMe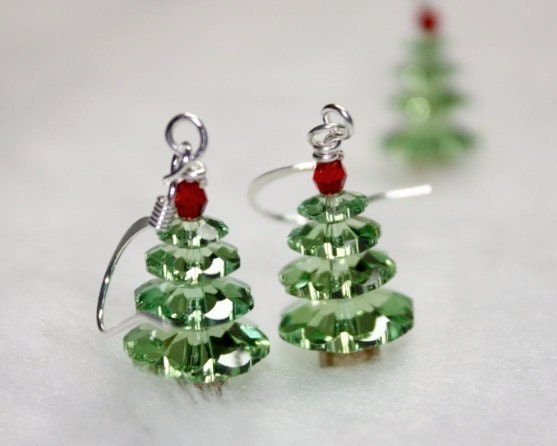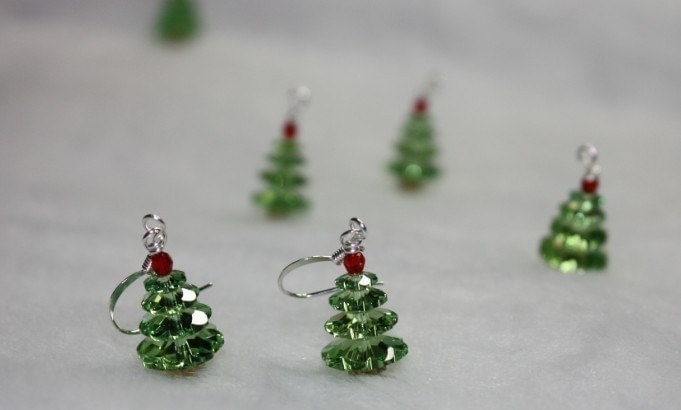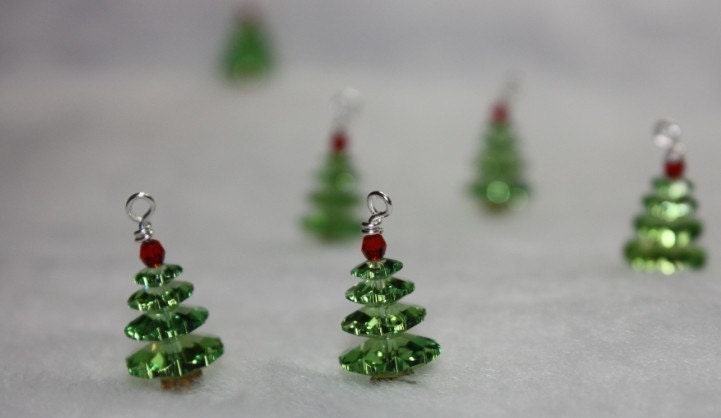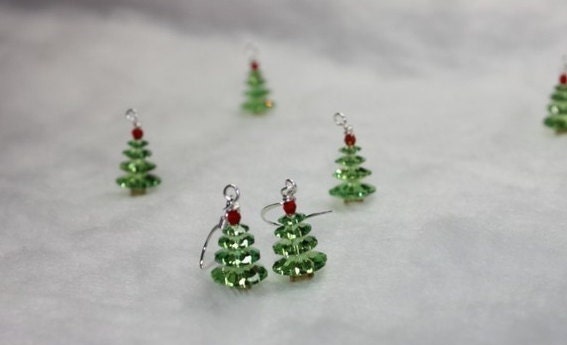 We've all seen it or been accidental victims of it. The overly decorated Christmas idiot. You've been to the work party with the odd woman in accounting who believes the only way that she can show you that she has Christmas spirit, is to dress up like its bitch by wearing every color combination of white, green and red available.
Last year at our family holiday party, our Christmas idiot wore a sweatshirt that has its own battery pack to turn on and off the small LED lights that burned her skin, a red Santa hat that played a whiny tune that sounded something reminisant to 'Here Comes Santa Claus' and what looked like it might have been an actual tree skirt as her skirt.
You do NOT want to be this person!
The good news is with these earrings you won't. They're festive without making you look like you need a bib. They're cute and hey, they're Swarovski so when the Christmas idiot comes looking for your holiday spirit, show her your ears and quickly go get some nog.
Festive Christmas Tree Earrings
From BombshellBling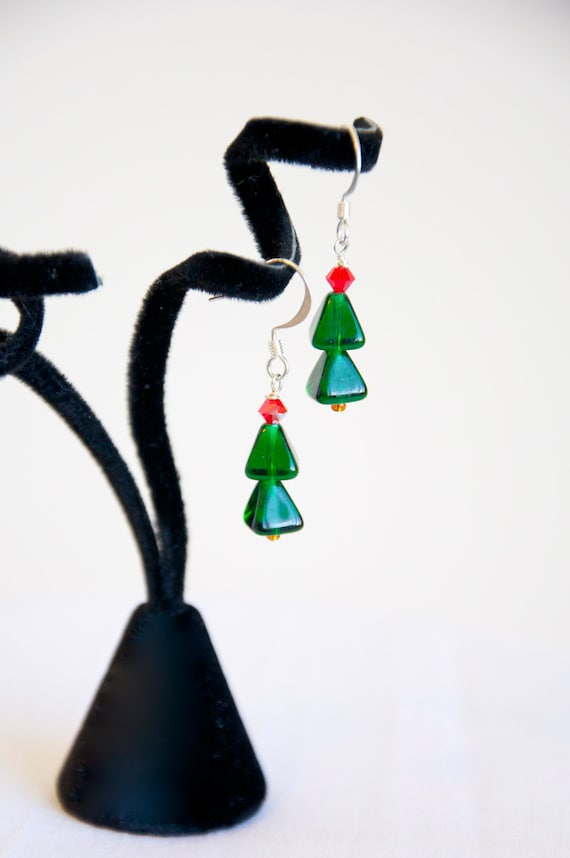 These fun, festive earrings are made from dark green glass beads with tiny red Swarovski crystals on top. They look like little Christmas trees and can be worn throughout the holiday season! They would make a perfect early Christmas gift for yourself or a loved one! Happy Holidays!
Favorite
Like this item?
Add it to your favorites to revisit it later.
Christmas Wreath
From Sleeping8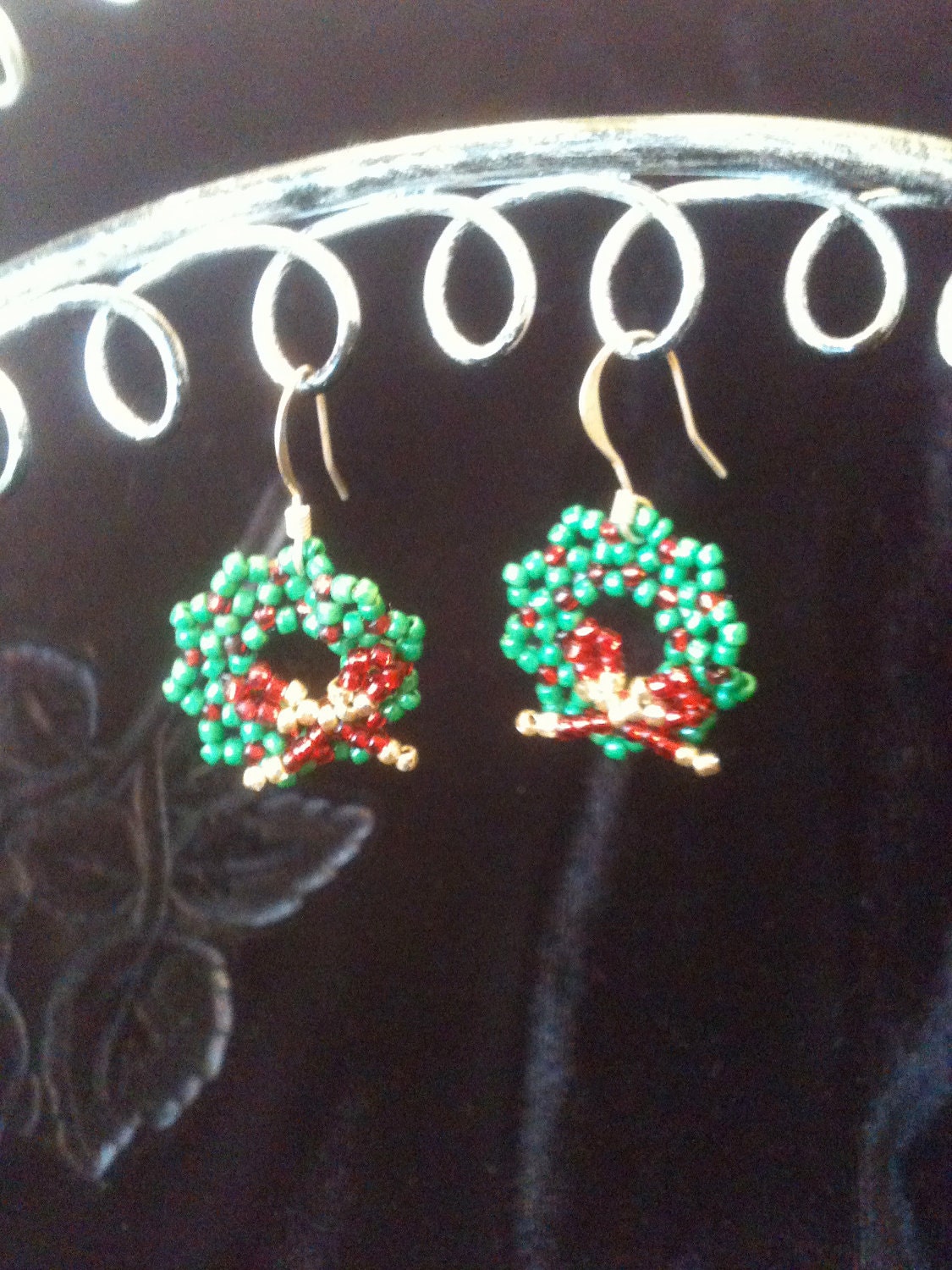 Tiny Christmas Wreath Earrings. These handmade beaded earrings are about 1/2 inch in length with a beautiful red bow.
Happy Santa Earrings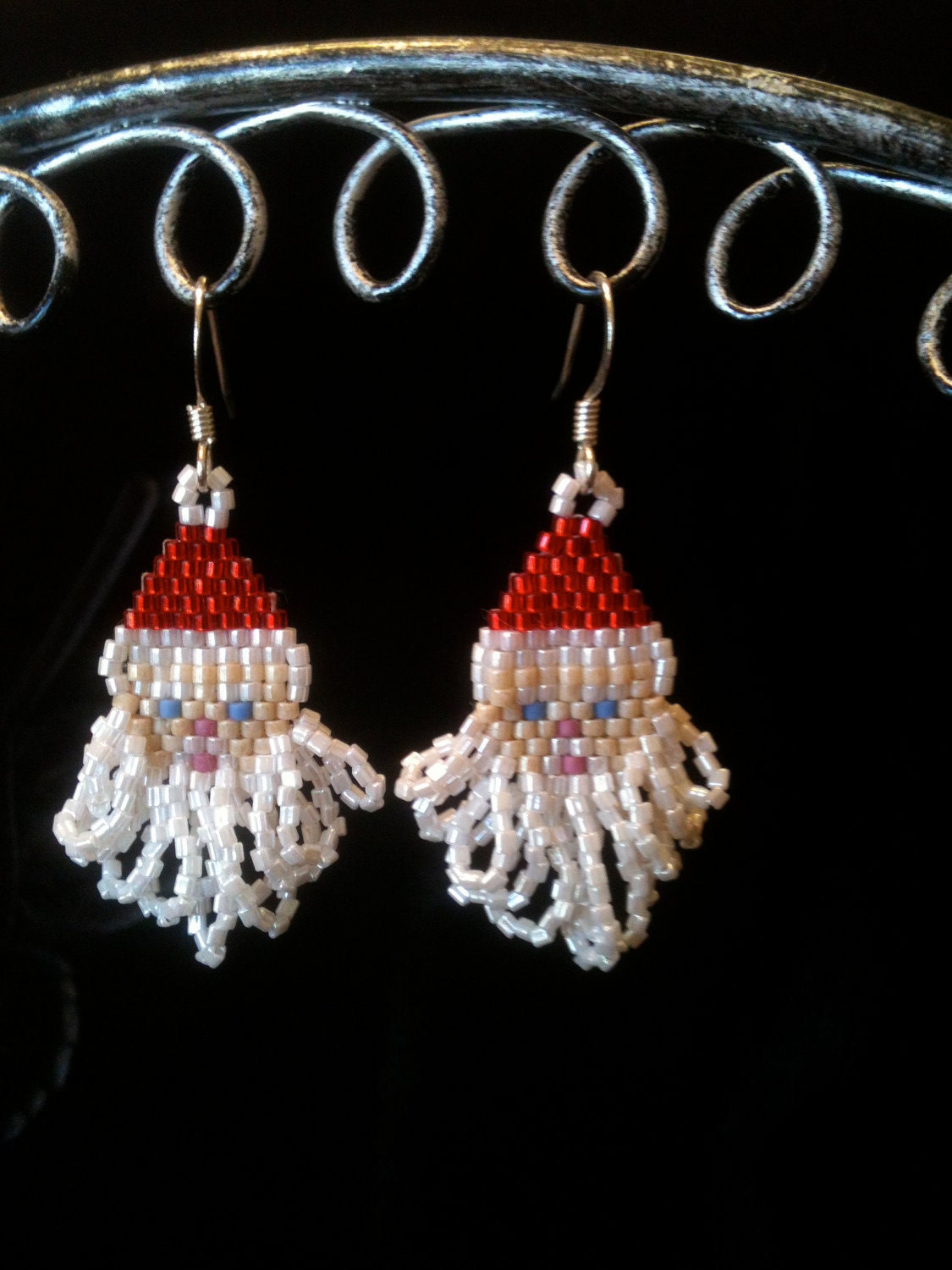 These Earrings are about 1 1/2 inches in length. They are hand stitched using delica beads in the brick stitch technique. Pattern by Jeanette Shanigan.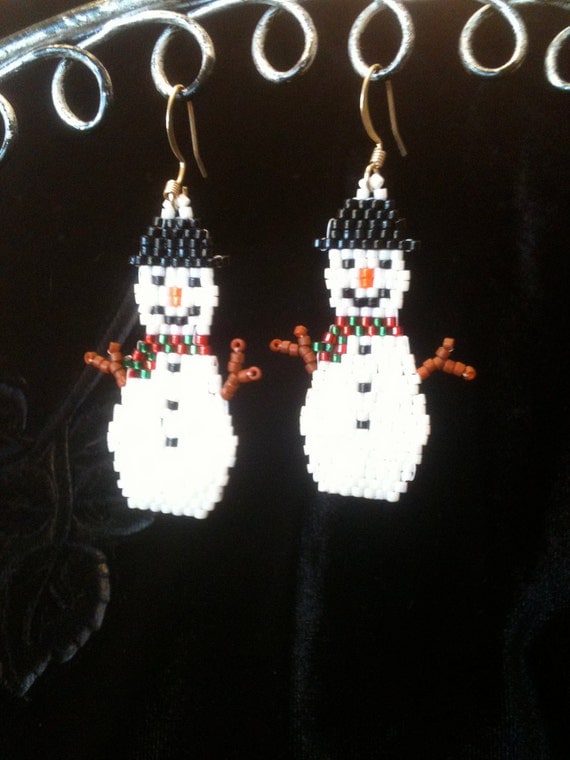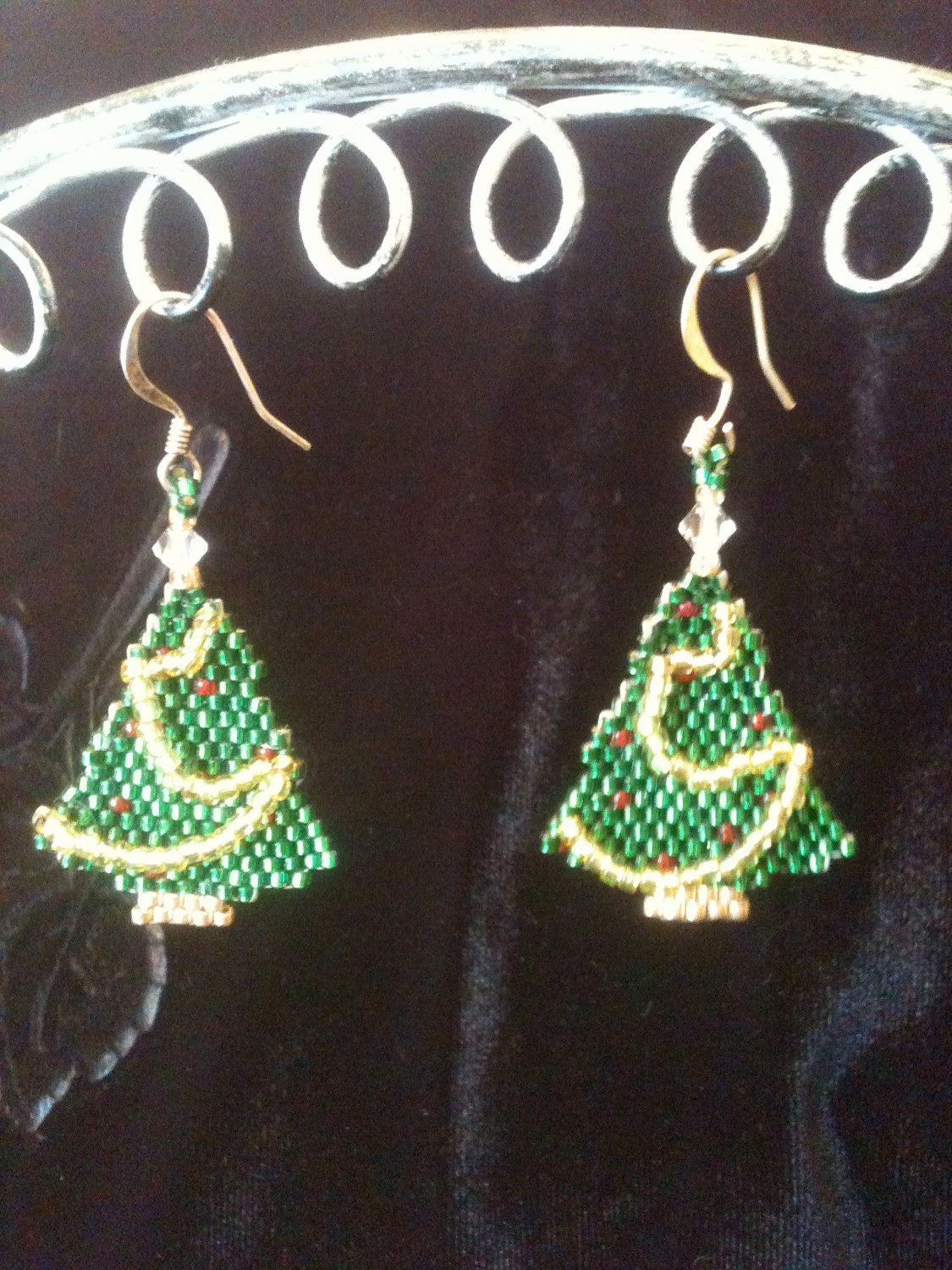 source: www.etsy.com